REDUCTION OF THEFT AND RECOVERY OF 98% OF STOLEN MACHINERY
The customer
Our client is a machinery rental company in the Autonomous Community of Madrid with more than 200 machines between lifting platforms, generator sets and small machinery. The challenge was the reduction of machine thefts as they had increased substantially in recent months.
The problem
In recent months there had been a significant increase in thefts that occurred on a regular basis in all the works where such machines work. The increase from the previous year had been more than 40%.
Although the machines had GPS tracking devices in order to be able to locate them in case of theft, the thieves
The GPS devices used required connection to the machine's battery (machines with built-in battery) and were of considerable size, which prevented them from being effectively hidden.

Devices that did not require a battery connection were large in size which prevented their concealment and required disassembly every 4-6 months to recharge them.

Due to the size of such devices, it was not possible to use them in small machines without grinding battery type, small generators, etc., as they were easily traceable by thieves.

The devices used were constantly emitting, making it easier to detect by scanners used by thieves.
The solution,
reducing machine thefts
For the reduction of machine thefts, B'Smart installed its device for thefts with dimensions of 48X42x16mm and a range of 3.5 years (a geolocation/day), which does not require battery connection and can be installed in all types of machinery, regardless of size.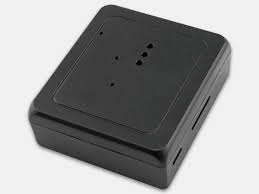 This device works with the same B'Smart fleet management platform and has the ability to send and receive reconfiguration SMS if necessary. In addition to geolocation via GPS allows geolocation through triangulation using telephony towers, which has proven to be very useful in cases where thieves hide the machine in an industrial ship or a car park where there is no GPS connectivity.
The great advantage of this device is that being so small in size and not requiring battery connection, it can be hidden anywhere in the machine pretending to be one more piza. It is also undetectable by scanners as under normal conditions it emits only once a day.
"Since working with B'Smart we have managed to reduce machine theft. In addition, we have the possibility to hide them in such a way that it is impossible to find them by the friends of others. These devices are so small that they look like one more piece of the machine. We have therefore reduced the thefts to virtually zero, as well as the time we invest in its installation and change of batteries"